"Every day do your best, learn something new, and make a friend." -Miljenko "Mike" Grgich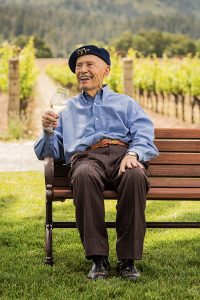 Miljenko "Mike" Grgich first gained international recognition at the celebrated "Paris Tasting" of 1976. Then, in a now-historic blind tasting, a panel of eminent French judges swirled, sniffed, and sipped an array of the fabled white Burgundies of France and a small sampling of upstart Chardonnays from the Napa Valley. When their scores were tallied, the French judges were shocked: they had chosen the 1973 Chateau Montelena Chardonnay, crafted by Mike Grgich,  as the finest white wine in the world. Mon Dieu! The results stunned the international wine establishment and immediately earned Mike a reputation as one of the greatest winemakers in the world. The Paris Tasting served notice to the world that the California wine industry was on the move, and it laid the groundwork for the creation of Grgich Hills Cellar.
Carefully nurturing their development and character, Grgich Hills treats each of their wines as a special child. The pride and joy of their collection is Chardonnay, an elegant example of the varietal displaying rich flavors and exquisite balance. As a complement to the Chardonnay, they also produce a refreshingly crisp Fumé Blanc, a rich and spicy Zinfandel, a Cabernet Sauvignon with tremendous depth and complexity, a lush and richly fragrant Merlot, and a luscious dessert wine named "Violetta," in honor of Mike's daughter, Violet.
Mike was inducted into the Vintners Hall of Fame in 2008 in honor of his many contributions to the wine industry. While many other Napa wineries pursue strategies of expansion, Mike, along with his daughter, Violet, and his nephew, Ivo Jeramaz, prefer to stay small. Their aim, year after year, is to improve the quality of their vineyards and their wines, relying on Mike's unique artistic and intuitive touch.
Committed to natural winegrowing and sustainability, Grgich Hills farms their five estate vineyards without artificial fertilizers, pesticides or herbicides, relying on wild yeast fermentation and use their passion and the art of winemaking to handcraft food-friendly, balanced and elegant wines.  In keeping with their goal of sustainability, the winery switched to solar power in 2006. As Mike often says, "From our vineyard to your glass, naturally!"
We invite you to join us for this very special evening celebrating Mike Grgich's 95th Birthday. A special menu artfully curated by Chef Jae Ho Bang will be served and perfectly paired with reserve and rarely available Grgich Hills wines.
Reception | 6:00 pm
Morgan's Front Patio
Tray Passed Hors d'oeuvres
Grgich Hills Estate 2016 Rosé
Dinner Seating | 6:30 pm
Morgan's Main Dining Room
Hokkaido Scallop Carpaccio
Cumin and Lime Vinaigrette, Espelette, Greek Yogurt, Lemon Powder
Grgich Hills Estate 2015 Miljenko's Selection Essence Sauvignon Blanc
Burrata Salad
Basil Pesto, Heirloom Tomato, Sourdough Tuile, Sherry Wine Vinaigrette
Grgich Hills Estate 2015 Miljenko's Selection Chardonnay
Foie Gras and Rabbit Terrine en Croute
Romaine, Fennel Mostarda, Radish
Grgich Hills Estate 2013 Violetta Late Harvest
Kobe Zabuton
Orange Scent Carrot Puree, Wild Mushroom Ragout
Grgich Hills Estate 2012 Yountville Vineyard Old Vine Cabernet Sauvignon
Maple Leaf Farm Duck Breast
Szechuan Peppercorn, Asian Pear Compote, Lavender Honey, Duck Jus
Grgich Hills Estate 2007 Library Selection Cabernet Sauvignon
Chocolate Bonbons
Pear, Cherry, Currant, Whisky
Grgich Hills Estate 2014 Miljenko's Selection Old Vine Zinfandel
$350 Per Person, Inclusive
Reservations required. Please call Morgan's directly at 760.564.7600